Successful Enterprise Building, the WKK way 15 June, 2007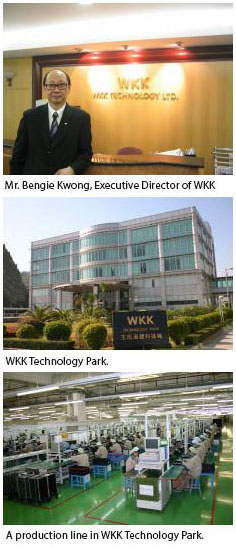 WKK Distribution President Hamed El-Abd and Microtek Labs CTO Bob Neves, both longtime residents of China, discuss the many issues and opportunities in China. Topics covered include the theft of intellectual property, education, politics, currency, the environment, and the overall business climate. CLICK HERE for a related article from Barry Matties' column "The Sales Cycle" at PCB007.
From humble beginnings as a tiny single sided PCB shop in the early 50's, Hong Kong based Wong's Kong King International (Holdings) Limited (WKK) has today become one of the largest electronics industrial equipment distributors in Asia under the stewardship of Chairman and CEO Mr. Senta Wong. Its Electronics Manufacturing Services (EMS) business of WKK Technology Ltd. (WKKT) pulls rank as the world's Top 17th EMS business in 2005, when it made a quantum leap from its 23rd position in 2003. We recently interviewed Mr. Bengie Kwong, J.P. (Aust.), Executive Director of WKK and also the President of WKKT.
VISION (V) : What started WKK on its certification journey?
Mr. Kwong (K) : WKK is an EMS company which provides manufacturing services to global customers in the USA, Europe, Japan and Asia Pacific. For us, international certification is critical so there is "common understanding" regarding Quality Level and System which is what WKK strongly stands by.
V : What constraints did you encounter and how did you solve them?
K : As a pioneer in applying ISO Certification, our key constraints were to educate so people could appreciate and understand its value and how to apply that to our entire operations.We have an independent Quality Systems department to coordinate the certification processes and maintenance of all Quality Systems and found that we have had to work with the requirements of many different Systems. But now that we have done that, it's helped to streamline our operations and to meet the requirements of all our different Quality Systems. I am pleased that it's been quite a smooth process and we are now reaping the fruits of our labour.We do have separate manufacturing units for specific product manufacturing which require very different requirements. What we do for the Medical industry is very different from the Automotives industry but it is essential that we strengthen systems control throughout. ISO certification has certainly helped to effectively distinguish different requirements of control for different Quality Systems within our operation.